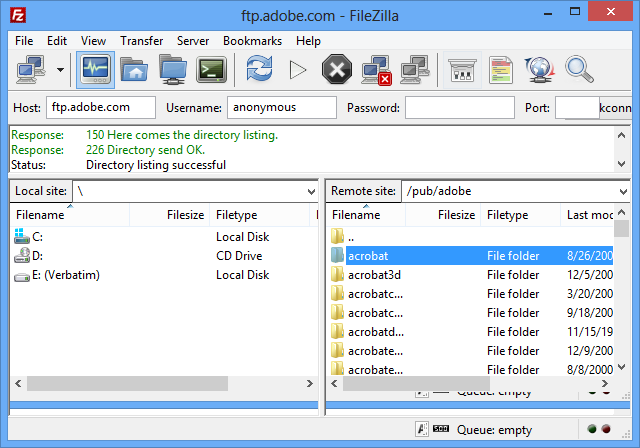 FileZilla adalah salah satu FTP / SFTP Client yang sangat powerful dan bersifat opensource. Aplikasi menyimpan semua rincian koneksi Anda ke server dan login. FileZilla didukung dengan antarmuka bergaya Explorer yang menunjukan antara folder lokal dan remote yang dapat disesuaikan secara independen. Aplikasi ini memberi dukungan firewalls dan proxy connections serta SSL dan Kerberos GSS security. Dengan fitur tambahan lainnya, seperti keep alive, auto ascii/binary transfer, download queue, manual transfers, raw FTP commands and more.
Fitur baru FileZilla 3.16.0:
Make notification bubble on queue completion configurable though the queue's context menu
Selected queue completion action is now remembered, excluding the system shutdown/sleep actions
Added new servertype to the Site Manager for servers using MS-DOS style paths with forward slashes as separators
Building FileZilla now depends on libfilezilla >= 0.4.0 (https://lib.filezilla-project.org/).
Bugfixes and minor changes:
Fixes for network configuration wizard leading to incorrect test result
MSW: Installer now removes leftover files from improperly uninstalled previous versions
Small fix for remembering queue completion actions
Download: FileZilla 32-bit 3.16.0 | Portable | ~8.0 MB (Open Source)
Download: FileZilla 64-bit 3.16.0 | Portable | ~9.0 MB
View: FileZilla Home page